[Article 20]
Tajima-meat should be required to fulfill the following conditions:
"Moto-ushi" or purebred seed stock cattle must be Hyogo-produce Tajima-gyu. The breeding farm should be in Hyogo Prefecture and should be registered by the Association.
The cattle should be bred and fatted in Hyogo Prefecture.
The cattle should be a steer or a cow and should be bred for above 28 month and under 60 months.
The meat should be processed at slaughter houses in Hyogo Prefecture
Meat quality: A or B above Rank 2. In case any damage was founded in the carcass, Commission member shall check it and judge that it should be Tajima Beef or not.
Hyogo-produce Tajima Beef can also call "Tajima-gyu," "Tajima Beef" or "TAJIMA BEEF."
[Article 21]
Kobe Beef should be selected from Hyogo-produce Tajima Beef defined by Article 20 and the cattle must be a heifer or a steer. The following conditions should be required to fulfill for Kobe Beef. Kobe Beef or Kobe-niku can be called "KOBE BEEF," "Kobe-gyu" or "Kobe-ushi."
(1) Yield score :

Score of A or B Meat quality score: Score of 4 or above.

(2) Beef Marbling Standard (BMS)

・Marbling ratio, called BMS, of level 6 and above.

(3) Weight of carcass

・230kg—470kg for cow
・260kg—470kg for steer

(4) Other

・In case that the any damage was founded in the carcass, the commissioned meat delivering company or commission member of the Association, shall check it and judge that it should be "Kobe Beef" or not.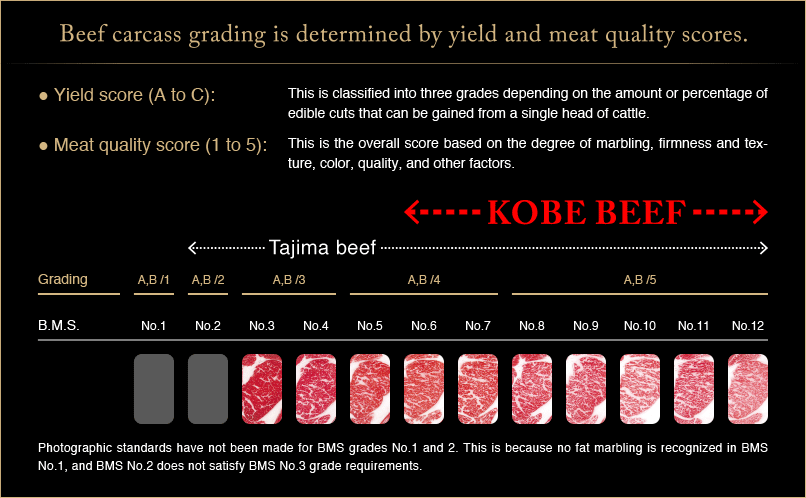 Scroll